How to Sell on Zalora: Step by Step Guide and Tips For Beginners
Zalora is the leading name in online fashion shopping, carrying an ever-expanding line of local and international brands tailored for consumers in the region. Our selection of over 50.000 products covers every aspect of fashion, from skirts to suits, sneakers to slip-ons, sportswear to watches, and so much more.
Start your style journey by owning a well-rounded range of basics and off-duty essentials. Think t-shirts and denim jeans, baju melayu, palazzo pants, pencil skirts, summer shorts and sunglasses, and other everyday necessities. Find new inspiration from all our fashion-focused edits, ranging from spotlight-stealing evening wear , long dress to party-ready dresses. Stay sharp with suits and blazers made for the office and beyond. Don't forget to match your outfit to the shoes too, be it classic flats, high heels, boots, or leather lace-ups. Prep yourself for all seasons by shopping from a complete range of outerwear, from lightweight jackets , leather jacket, denim jacket to cosy sweaters. Our fashion collections are complemented by all kinds of accessories — think bags, beauty products and sports lifestyle gear. ZALORA shoppers can also shop according to the latest trends that are dominating the fashion runway, whether it's a monochrome edit, athleisure styling, or this season's highlights.
With the widest selection of fashion apparel you can possibly find, and outstanding services like lightning-fast shipping, cash-on-delivery, and free returns, ZALORA brings you the best of Malaysia online shopping today!
Before starting your own business on Zalora, there are few terms and conditions need to be met.
1. Open Zalora Online Shop requirements.
i. You must have original IDs, duly registered business with all permits and registration forms at the signing of the contract must be of above 18 years.
ii. You are obliged to comply with all the necessary state laws and policies of the country you are operating from.
iii. You must at all times stay in line with your product range and pricing and to also be up to date with your products, stock count, prices, terms and conditions and any costs the buyer may incur.
iv. You must have the capability to meet customers' orders within the stipulated order delivery policies.
2. The cost of Opening Zalora Online Shop
Selling on Zalora marketplace does not come for free. However, most of the fee is incurred after registering your online fashion shop.
Zalora website is a bit inviting as anybody can register as long as you can comply with the outlined requirements. This is facilitated by free registration to its marketplace.
As most online platforms charge their affiliate's upkeep fees, Zalora is of the contrary and you will incur no any upkeep fee-no monthly subscription fee.
The greatest cost starts when you make you start listing your products. There are also other extra fees related to multiple photo listings charged monthly. These charges are not specific and will depend on the product listed.
Products sold on Zalora marketplace incur different commissions based on the type of product and ranges from 10% to 30% per item but these fees may change according to Zalora's policies.
There are also hidden fees a seller will incur as a result of products returned by customers.
Steps to start your selling on Zalora
1. Type in sell with us Zalora in Google.
2. Fill up the details required by Zalora
3. Submit the filled form and wait for their strategic marketplace advisors to respond to you within 7 days. Once you are given the node to set up your shop, you will start by setting your shopfront. It is this point that gives the image of your shop. Create a nice logo and brand name and then upload.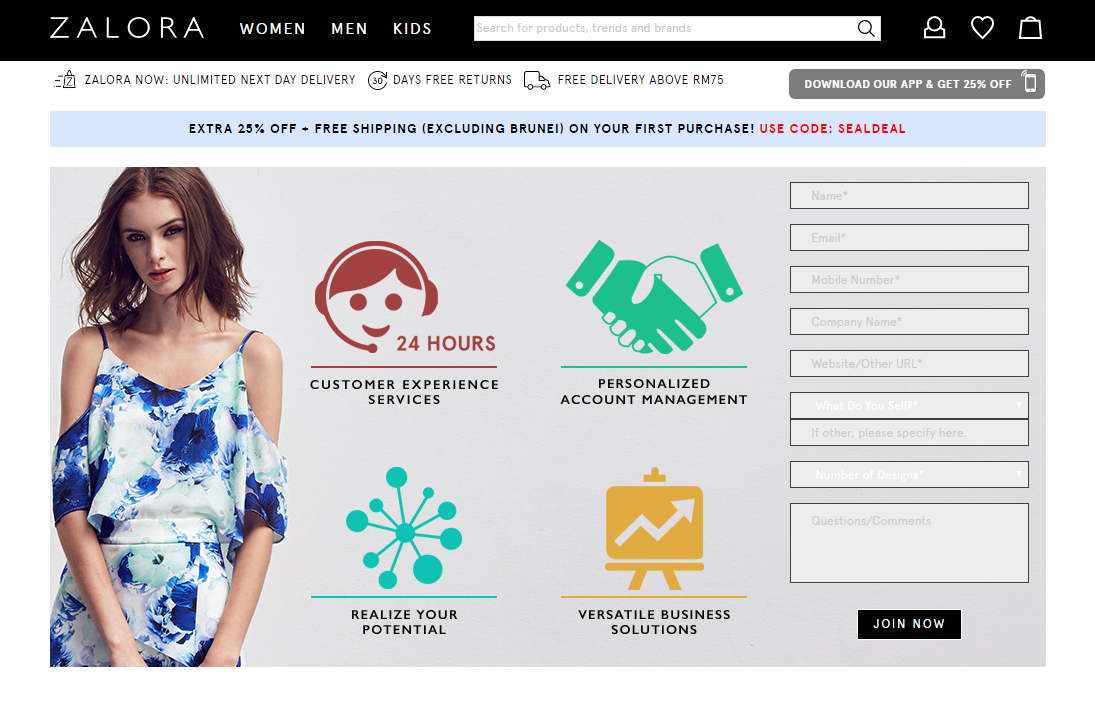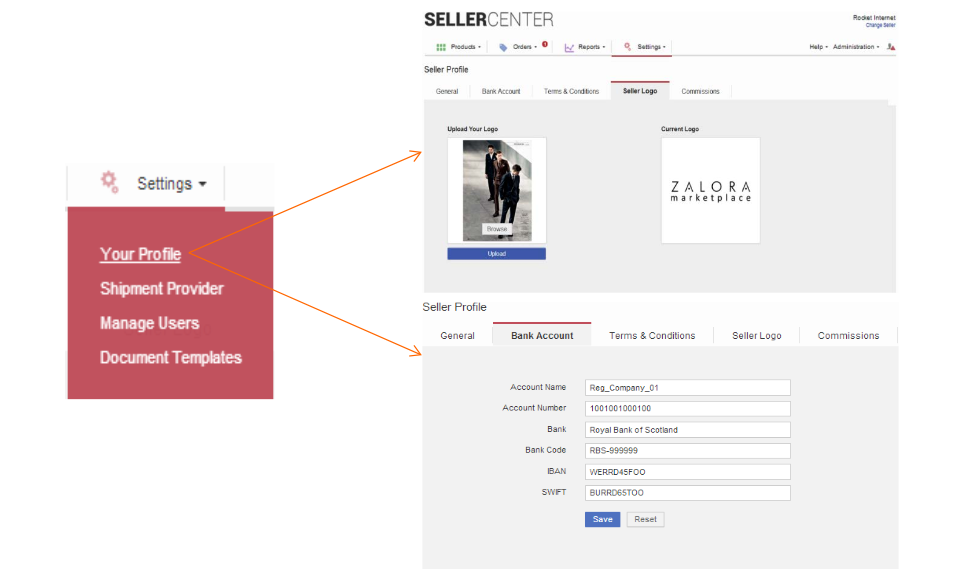 4. Upload your product into Zalora marketplace. Fill in with product name and details, together with the photos of the product

5. Set the price and amount of product for each product you have uploaded.

You are ready to receive your first order from Zalora marketplace
After setup your very own Zalora marketplace, you need to know the order process flow before processing customer order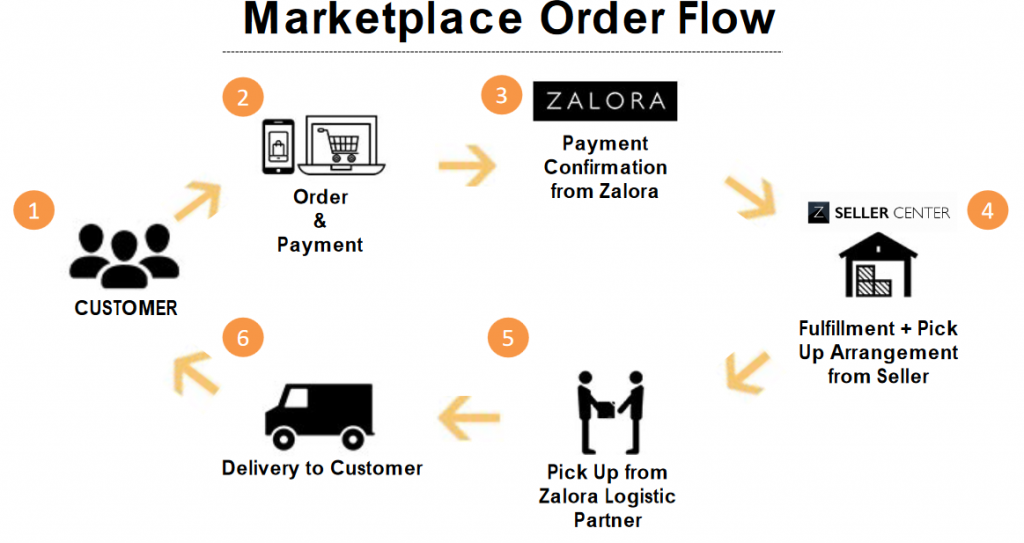 i. With your online fashion shop open on Zalora marketplace, interested customers will select any product to place his/her order to Zalora online and make payment.
ii. After the order is verified and payment accepted by Zalora, an arrangement is made to pick the items from your store.
iii. The product is scanned to verify the product and match it with the email or contact of the buyer. This is to avoid any wrong item delivery.
iv. A Zalora transport partner collects the items and delivers it to the specific customer.
v. You will now wait for your payments between 15th and 18th of the following month.
All the above processes must be done within a period 3 working days.
FAQs about sell and open store on Zalora website
1. How is Zalora marketplace?
Zalora marketplace has been the most preferred online fashion market in the entire South Asian apparel market due to the well-grounded customer base. Currently, Zalora boosts of more than 500 local and international to brands on its website. New arrivals account to at least 100,000 items added on its shops.
Of importance is the high number of customers traffic to that keeps increasing on a daily basis and as of today, they amount to 26 million per month from both the mobile app and desktop app.
2. How is Zalora Delivery & Shipping Fees?
All fees charged on any Zalora delivery is well calculated to ensure its reasonable taking into account the distance and quantity of the items ordered.
There are various modes of deliveries and shipments depending on customer specifications. 
3. What are the bestselling brands on Zalora online shop?

It is will unfair to say a certain brand is selling better than the other as some individuals, handcrafted brands do at times record higher sells on the Zalora website than the most famous brands.
Book a Free Online Demo to see how to sell better and automate your Zalora Business